NOTICE OF PASSING OF ZONING BY‑LAW #2023-003 - REMOVAL OF HOLDING ZONE
TAKE NOTICE that the Council of the Corporation of Tay Valley Township passed the above noted By-Law on the 31st day of January 2023, under Section 34 of the Planning Act, R.S.O., 1990, Chapter P.13. This removes the Holding Zone for development within the Maberly Pines Subdivision.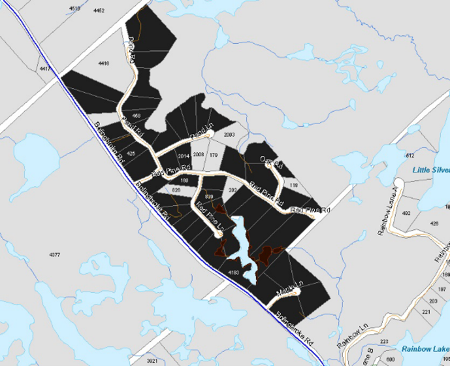 By‑Law #2023-003 applies to 47 lots in the Maberly Pines Subdivision, municipally known as Concession 6, Part Lot 13. Plan 21, Maberly Pines, geographic Township of South Sherbrooke. This applies to lot numbers 1,2,3,4,5,7,8,9,10,11,12,13,14,15,
16,17,18,19,21,22,25,26,27,28,
29,30,31,32,33,34,36,37,38,39,
40,41,42,43,44,45,46,48,50,51,
52,53,54, on Pond Road, Pond Lane, Red Pine Road, Red Pine Lane, Oak Road, and Maple Lane. The purpose of the amendment is to change the zoning of the properties from Residential (R-30-h) with a holding zone to Residential (R-30).
THE AFFECT OF THE AMENDMENT is to remove the holding zone designation, to allow for development of the lots, in accordance with the BluMetric Environmental Inc. Site Servicing Report, October 27, 2022.
ADDITIONAL DEVELOPMENT REQUIREMENTS
Please note: Trailers may not be occupied on any lots in Tay Valley Township, unless there is an open building permit.