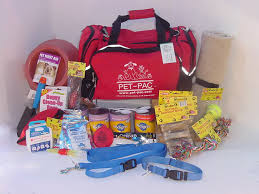 Over Eighty per cent of Canadian pet owners consider their pets to be a part of their family.
Your pet relies on you to keep them safe and comfortable and as such, it is important to include them in your emergency planning. Be sure to prepare an emergency survival kit for your pet. Gather the necessary items into an easy-to-carry bag and store it next to your family emergency survival kit for quick retrieval. Remember, the items in your pet kit will vary depending on the type of animal you have. Your veterinarian will be able to help you determine which items your pet needs.
Sample list of emergency items for a dog or a cat
Food and water
Bowls, manual can opener, spoon and plastic bags
Up-to-date ID tag (microchipping is also recommended)
Current photo of your pet with you in case you get separated
Emergency contact list of pet friendly hotels/motels outside your area, friends, relatives and your veterinarian
Copies of medical records, including proof of vaccinations
Information on feeding schedule, medical or behavioural problems
Medications and first aid kit
Familiar bedding materials, small toy and brush
Leash, collar or harness, muzzle (dogs)
Litter/pan and scooper (cats), poop n' scoop bags (dogs)
Carrier large enough to transport and house your pet
Evacuation
If you need to evacuate your house, take your pet with you. It is important to plan ahead and find places that will accept animals during an emergency. Learn about your municipality's evacuation centre locations and related pet policies. Consider making arrangements for your pet to stay with an out-of-town friend or family member or research pet-friendly hotels outside your immediate area.
You may not be home when an emergency occurs, but your pet will be. Consider a buddy system with a neighbour who can take care of your pet in your absence. It is important that they are familiar with your pet and your family emergency plan.
Just as you plan for your family in case of an emergency, plan for your pets. They need you.
To learn more about planning for your pet visit the Emergency Management Ontario website.