72-Hour Emergency Preparedness Kit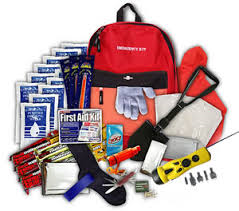 The impacts of an emergency situation are reduced if residents are prepared prior to the emergency. Each household should have a family emergency plan and a survival kit with supplies to keep your household safe and comfortable for up to 72 hours. The following is an example of items that you may wish to include within your survival kit:
Food & Water
Canned, non-perishable food items together with a can opener;
Safety
Spare car keys;

Whistle;

First aid kit;

Medications;

Candles and matches/lighter;

Identification;

Cash;

Contact information for family members and important resources.
Comfort
Clothes and footwear that are appropriate for the season;

Blankets or sleeping bag;

Toiletries;

Playing cards/games.
Accessories
Flashlight and spare batteries;

Radio with spare batteries.
Pets
Food;

Leash or carrying case;

Vaccination papers.
It is important to note that each household will have different requirements in an emergency situation. Only you know the requirements of your family; please ensure that your survival kit includes all the items that your family will need for 72 hours. Some families may have small children or elderly family members that have more specialized needs.
Remember...
Pack your entire emergency survival kit within a duffel bag;
Store your emergency survival kit in an easily accessible location;
Ensure your family knows where your emergency survival kit is stored;
Review the contents of your kit twice a year to verify expiry dates on food, water and medication and to test your radio, flashlight and batteries.
Have a Plan - Be Safe
For additional information on family emergency plans and survival kits, visit: