A tire means a covering for a wheel, usually made of rubber reinforced with cords of nylon, fiberglass, or other material and filled with compressed air.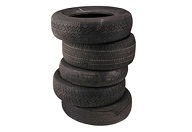 The "Used Tires Program" is a province-wide initiative to collect and recycle used on-road and off-road tires in Ontario. The program will clean up existing stock-piles of used or scrap tires and prevent new stockpiles from being created.
The Used Tires program, launched on September 1st, 2009, is operated by the Ontario Tire Stewardship (OTS), and is funded by the tire industry. The program covers the collection, transportation and recycling of all used tires including those of cars, commercial trucks and off-road vehicles.
With the Used Tires Program handling over 12 million tires sold in Ontario annually, Ontarians have a few more reasons to feel good about purchasing their next tires knowing that their old tires are going to be managed in an environmentally responsible and economically sound manner. The Used Tires program will divert used and/or scrap tires from burning or landfill for reuse and recycling.

Tires without rims
Tires with rims