COVID-19 Protocols
Regular Hours of Operation: Mondays, Wednesdays and Saturdays 9:00am to 3:00 pm.
The "Drop off" is now located near the exit of the Glen Tay Waste Site. Please do not drop off without permission – a volunteer will be there to help with this process. There is a limit of 2 bags/boxes per drop.
We ask that you adhere to social distancing and follow directions below:
Sanitize your hands upon entry and exit
Wear your mask.
Stay 2 metres (6 feet) apart from others.
Follow the signage and arrows posted inside the building.
There will be a limit of 3 persons shopping at a time.
There will be no large item drop offs at the barn at this time.
The Re-Use Centre at the Glen Tay Waste Site is a volunteer run initiative, in partnership with the Township, to divert materials from the landfill and extend the life of articles in good condition.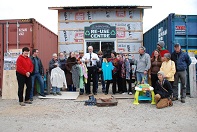 The Centre, built largely by volunteer labour and donated materials, accepts no longer needed large and small items, in good shape, from Tay Valley residents. The items are sorted and put on display in the "store" where visitors can take what they can use. It is important to note that because the Centre is located at a Municipal waste disposal site, it is strictly for current residents of Tay Valley Township only.
The Centre typically operates during regular Glen Tay Waste Site hours. Anyone wishing to volunteer for a shift at the Centre should contact the Municipal Office for details.
With the opening of this Centre, Tay Valley residents begin a new chapter in responsible waste management.
The reselling of items from the Centre is discouraged. This is a volunteer operation. Volunteers do not want to donate their time for others to make a financial profit.

Books
Building Materials
Clothing
Home Furnishings
Housewares
Plumbing Fixtures
Tools and Shop Equipment
Toys
Working Small Appliances

Moldy or Stained
Broken Furniture
Please refer to the list of "Unacceptable Waste"
Mattresses


Tay Valley Township assumes no responsibility for items obtained from this Centre, and further, the Township does not give any warranty or other assurances to their operation, quality or functionality.