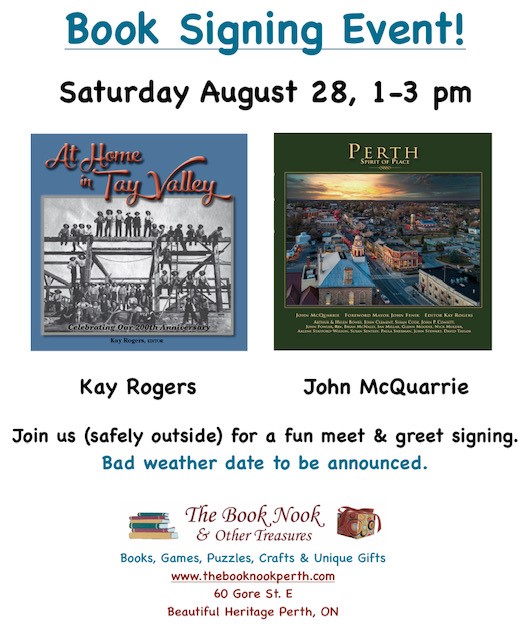 Posted on Friday, August 20, 2021 10:05 AM
Book Signing Event
Saturday, August 28, from 1:00 p.m. to 3:00 pm.
At Home in Tay Valley by Kay Rogers
Perth, Spirit of Place by John McQuarrie
Join (safely outside) for a fun meet & greet signing.
Bad weather date to be announced.
The Book Nook & Other Treasures
60 Gore street East, Perth


Posted on Thursday, August 19, 2021 12:09 PM
The Agenda has been posted for the August 24, 2021 Meeting.
Posted on Thursday, August 19, 2021 08:15 AM
JOB POSTING
ADMINISTRATIVE ASSISTANT – CORPORATE
CONTRACT POSITION
Tay Valley Township is seeking a temporary full-time Administrative Assistant – Corporate. Reporting to the Acting CAO/Clerk, the Administrative Assistant – Corporate will be responsible for receiving incoming visitors and telephone calls, providing clerical support to the Acting CAO/Clerk and Deputy Clerk, the Recreation Working Group and the History Scholarship Selection Committee, researching and drafting reports, by-laws...
Posted on Wednesday, August 18, 2021 03:33 PM
Please be advised that Tay Valley Township has retained Miller Group for the resurfacing of the Allan's Side Road. Work is scheduled to commence tomorrow, Thursday, August 19th, 2021 and is expected to be completed by end of day August 24th, 2021.
Single lane closures are expected during the daylight hours and traffic flow will be controlled via traffic control persons. Please remember to reduce speeds within construction zones and be aware of the workers and equipment on the jobsite.
Please...
Posted on Wednesday, August 18, 2021 01:54 PM
The Agenda has been posted for the Committee of Adjustment Hearing on August 23, 2021