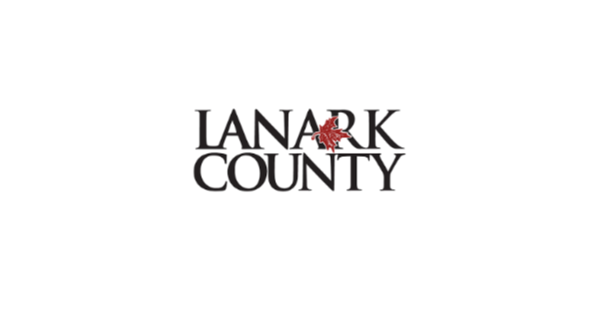 Lanark County Warden Christa Lowry (Mississippi Mills Mayor) is encouraging everyone to "fall in love" with Lanark County Trails as the annual showcase of fall colours begins.
"We have a wide range of trails throughout the county that offer something for a variety ability levels and interests," Lowry says. "It is an excellent way to explore the beauty of our county and the natural and cultural history found in our local municipalities."
The county operates five trails, three of which are hiking trails and two that are multi-use:
Baird Trail – This site in Lanark Highlands (1024 Herron Mills Rd.) offers three loop hiking trails ranging from 620 metres to about 1.3 kilometres through forests. It features boardwalks over a sedge wetland, important ecological features and giant maple and beech trees combined with evidence of pioneer farming and red pine plantations. Parking, picnic tables and interpretive signs are on site.
Tay River Pathway – Located on the western outskirts of Perth behind the Lanark County Administration Building (99 Christie Lake Rd.), this 1.5-km loop walking trail is an accessible outdoor experience that is suitable for wheelchairs and includes several park benches. The trails passes the Round Garden, which is a unique garden designed for all the senses, as well as a white pine reforestation culminating in a boardwalk and viewing platform overlooking the beautiful Tay River. The Tay River Pathway is adjacent to the Trans Canada Trail.
Conboy Trail – Located in Tay Valley on Bathurst 5th Concession, this 1-km hiking trail is on a 98-acre parcel donated by Janet Conboy in 2019 to become part of Lanark County's Community Forest network. The wooded property abuts the county-owned section of the Tay-Havelock Trail in Tay Valley Township, about 700 m west of Cameron Side Road. An official opening for the Conboy Trail is planned for Oct. 13 at 3 p.m.
Tay Havelock Trail – The Lanark County portion of this multi-use trail is 25 km in Tay Valley Township. It is popular with ATV and snowmobile users and follows abandoned rail bed. It can be accessed south of Hwy. 7 at Glen Tay and has multiple access points as it links with many other legs of the Trans Canada Trail. View gorgeous countryside along this scenic trail.
Ottawa Valley Recreational Trail (OVRT) – The 61-km Lanark County portion of this exceptional multi-use trail begins at Sturgess Road (just north of Smiths Falls in Montague Township) and travels north to Renfrew County, passing through picturesque Carleton Place, Almonte and Pakenham along the way. Created from abandoned Canadian Pacific rail bed, this trail opened in October 2018 and offers a transportation corridor for pedestrians, cyclists, four-wheelers and snowmobilers year-round. Learn more at OttawaValleyTrail.com
Partnerships with other organizations have been a huge benefit to Lanark County's trail operations. The county recently received $56,000 from the Ottawa Valley ATV club to complete the refurbishment of a failing box culvert on the Tay Havelock Trail. "The OVATV Club has now contributed more than $100,000 to trail improvements in Lanark County over the last two years," said CAO Kurt Greaves.
Lanark County has also partnered with the Snow Road Snowmobile Club to upgrade the Fall River Bridge on the Tay Havelock Trail. This work will be starting later this month and completed in early December.
"This is a $250,000 project funded by Lanark County and the Ontario Federation of Snowmobile Clubs," Greaves added. "It is the third bridge project for this partnership in recent years, with others including the Highway 511 bridge over the Mississippi River near Balderson and the Ottawa Valley Recreational Trail bridge in Carleton Place."
As well, the boardwalk and viewing platform on the Tay River Pathway was made possible thanks to fundraising efforts led by a group of family members from the Lanark Lodge Family Council in cooperation with the county. The extension of the pathway opened in 2016 after $67,000 was raised and other community partners made contributions to its construction.
In 2020, the Alameda project on the OVRT opened in Almonte. This community-led project raised more than $60,000 to plant 100 mature sugar maples, to install multiple benches and bike racks, and for landscaping, parking and art installations.
The Town of Carleton Place has invested more than $1 million to create Carleton Junction, a downtown park on the OVRT that includes a pump track, playground, parking, washrooms, hockey rink, paved walking trail and a Mississippi River viewing area.
Beckwith Township has recently added another connecting trail, this one from Franktown to the OVRT. Tay Valley has long supported the maintenance of the Tay Havelock Trail.
"The ongoing support for these trails truly shows the enthusiasm of the community to share the beauty of Lanark County's trails," Lowry added. "If you haven't experienced them yet, now is a great time to 'fall in love' with our trails."
For more information, including maps, about the county's trails, visit www.lanarkcountytourism.com or https://www.lanarkcounty.ca/en/roads-trails-and-transit/recreational-trails.aspx or call 613-267-4200 ext. 3170.