Tay Valley Township is known for its agricultural heritage, having a wealth of historical farms, heritage buildings and traditional landscapes. Cultural activities and attractions include two Provincial Parks dedicated to the conservation and education of these lands; Silver Lake and Murphys Point. The history of our Township is unique and represents a story to be explored and discovered.
History of Tay Valley Township
North Burgess, South Sherbrooke, and Bathurst. The first Township to welcome European settlers after the war of 1812 was North Burgess. Tay Valley Township was formerly three separate townships.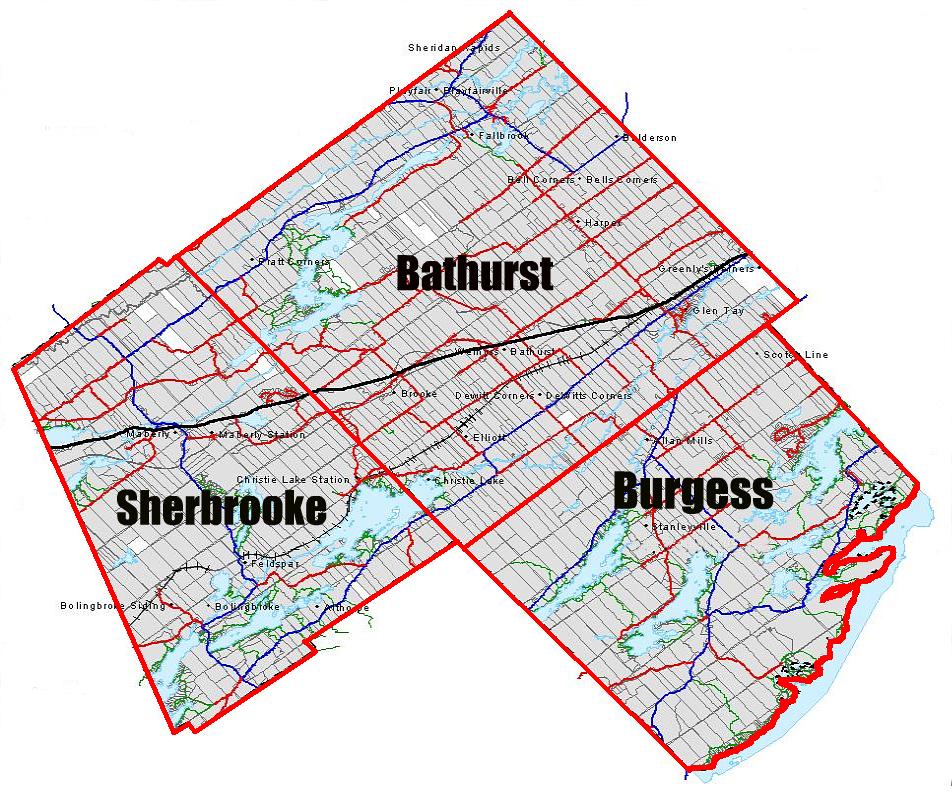 Township of North Burgess
For thousands of years, Indigenous Canadians hunted and gathered along the Rideau Watershed of what is now called Tay Valley. The area was surveyed in 1812 and European settlement followed.In the former Township of North Burgess, Early European settlement included a group of Scottish and Irish immigrants and soldiers from the War of 1812-14. These residents established homes and farms along a stretch of cleared land, which would later become known as the Scotch Line. North Burgess was named for Rev. Thomas Burgess in 1794, an important religious leader who later became Bishop of Salisbury. Within the former township is the historical hamlet of Stanleyville, originally called Micaville, whose early European residents were Irish Catholic immigrants. It thrived on the business of the Silver Queen Mica mine, now located in Murphys Point Provincial Park. Before mica, lumber was an important trade and the Black Creek lumber yard was a vital part of this industry.At the park, you will find the historic site of the restored McParlan House and Burgess Mill ruins. The saw mill (circa 1820 to 1870) was one of the earliest European industries on Big Rideau Lake. The land along the Rideau Canal system continues to play a vital role in our community. In 2007, the Rideau Canal was named by UNESCO as a World Heritage Site.
Township of Bathurst
The Township of Bathurst was surveyed in 1816 for settlement by both British emigrants and ex-soldiers and seamen of the 1812-1814 War. The Township was then settled by Irish and Scottish immigrants, most of whom were farmers or military personnel. It was named for Henry Bathurst, the third Earl of Bathurst, who served as Secretary of State for War and the Colonies from 1812 to 1827.The villages and hamlets of Bathurst include Glen Tay (the site of three historic mills), Dewitt's Corners, Balderson (best known for its history of cheese production), Fallbrook (former home to four mills and two hotels), Playfairville, Harper (home to artisan potters), Wemyss and Armstrongs Corners.
Township of South Sherbrooke
South Sherbrooke was surveyed in 1819 and named for Sir John Coape Sherbooke, who served in the British Army for 30 years and then became Lieutenant Governor of Nova Scotia from 1811 to 1816. General Sherbrooke also served as Governor General of British North America from 1816-1818.At the time of survey, South Sherbrooke was one of many townships within the District of Bathurst. Like much of the surrounding area, South Sherbrooke was settled by Scottish and Irish immigrants. For many years after settlement in 1821, farmers struggled with the harsh terrain of the Canadian Shield. The hamlets and villages of South Sherbrooke include: Maberly (former home to five milling operations, five stores, two churches, a hotel and the area's own telephone company), Bolingbroke (once with four mills, a store and a lumbering trade that employed hundreds and a regional center of business in the colonial period), Althorpe, and Rokeby (the earliest European settlement of this township).
Tay Valley Township
The Township was created in 1998 with the amalgamation of the former townships of Bathurst, North Burgess and South Sherbrooke and was called the Township of Bathurst, Burgess, Sherbrooke. It was renamed in 2002 to Tay Valley Township, in recognition of the river that meanders across our landscape continuing its historic role of linking communities.

View cultural and heritage sites on the Interactive Map of Tay Valley Township.
Tay Valley Interactive Map
While researching the 200th anniversary of the European settlement of Tay Valley Township, over 200 historic, cultural or archeological sites or events were mapped onto the Community and Culture Map (linked below) along with a short description of the site or event. Residents and tourists can learn more about the township by visiting the sites identified on the map. If you have suggestions of places you think are important and want us to add them to the map, please contact the Township.