The following information on the historic mills of Tay Valley is from the book "Mills of the Tay Watershed and Area of Eastern Ontario" by David Taylor, available online at http://www.perthhs.org/. The photographs have been provided by David Zimmerly, Gary Webster, Paul Sturmey, Graeme Crabb, Ralph Buttrum and David Taylor. For permission to copy them, please contact David Taylor at 613-264-0094.
In the early 1800's and 1900's, the Tay River and its tributaries provided water power to dozens of mills through the watershed. The mills were used for many different purposes including to saw lumber, cut shingles, de-bark logs, ground grain and minerals, card wool, spin textiles, and even provide water for local scotch whiskey.
Please note that these mills and mill sites are located on private property and their listing here is not an invitation to visit them. However, any sites that are on the water may be seen by paddling past, without disturbing owners - and many can be viewed from the road.
Also view the Tay Valley Township Interactive Map for additional information on cultural sites.
Adams (Glen Tay) Mill
The Glen Tay Mill, also known as Adams Mill, is located on the Tay River in present-day Glen Tay Hamlet (Lot 20, Concession 2, Bathurst Ward). The first mill was built by the original property owner, Abraham Parsall, or by Colonel Joshua Adams and his family, who acquired the property in 1820, on Parsall's death. Under Joshua and the family, Adamsville, as the hamlet was first known, would grow into a major industrial complex for that era. It included a sawmill, oatmeal mill, grist mill, carding & woolen mill, tannery shop, cheese factory, carriage factory, blacksmith and two general stores with post offices.
On Joshua's death in 1863, subsequent owners were daughter Elizabeth and her husband, Henry Moorhouse, John Hargrave, Ralph Dodds and Wm. Robinson. By 1882, all the mills had ceased operation, except the prize-winning woolen mill, which closed shortly after a fire in 1897. Then, the mill site was acquired by Perth Electric & Water Power Co., joining three other mills along the Tay producing hydro power for the Town of Perth.
Other well-known local businesses were James Kearns' carriage factory, at the Glen Tay and Christie Lake Road intersection, and Chaplin Dairy, which operated until the 1980s.
An 1870 fire destroyed the woolen mill and several nearby buildings. The mill was rebuilt but never recovered financially. In 1929, the dam burst, taking out the Glen Tay Bridge and flooding a large section of west Perth.
The grist mill is still standing today, beautifully rebuilt by the Drennan family, one of only three stone mill buildings remaining in the township. It can be viewed from the park at Glen Tay Bridge.
Photo Gallery: Adams Mill will appear here on the public site.
Allans Mills
William Allan, born on the Scotch Line in 1833, was the first owner of this property on Grants Creek (Lot 12, Concession 10, Burgess Ward), at Allans Sideroad. William built a saw and grist mill from 1856, and, later, a shingle mill, grocery & dry goods store, blacksmith shop and post office. He also built the first dam at Pike Lake, to help manage the creek flow. By 1890, the sawmill was run by J&R Ritchie of the Ritchie Sawmill family. In 1892, the Burgess Milling Company purchased the grist mill, and ran it into the 1900's. William managed the grocery and dry goods store until his death in 1908, when son James took over the post office, until rural mail delivery was established in 1914.
William Allan was prominent in the township - farmer, mill owner, store-keeper, post master, councillor and Burgess Township treasurer – and provided the land for the Scotch Line School on Upper Scotch Line, which is now a recognised Township Heritage Property.
The grist mill, beautifully restored by John Matthews and Jennifer Mathews Dickson, is one of three area legacy grist mills still standing
Photo Gallery: Allans Mill will appear here on the public site.
Bolton (Boulton) Mills
Located on Lot 22/23 of Concession 11 of the Bathurst Ward, in the hamlet of Fallbrook, the Bolton Mills consisted of a grist mill and a sawmill/shingle mill, built by Wm. Bolton. Built on Bolton (aka Boultons) Creek in 1863, this property was offered for sale by the proprietor, Archibald Bain of Ottawa. Later, a carding, woolen mill, cheese box and cheese factory were added to Fallbrook.
Bowes Mill (a.k.a. Fraser Mill, Tay View Mill)
The Bowes Grist Mill is located on the Tay River, at the Bowes Sideroad (Lot 17, Concession 1, Bathurst Ward). The property was originally owned by Archibald Fraser, who built a dam and also a sawmill on the north side of the river, in the 1820s. The grist mill was built later. The mills had several owners in their first 70 years, including Abel Mott, Henry Glass, Joshua Adams, three Scott brothers, John Allan, John Chaffey, John Laurie, Peter McLaren and Louis Badour.
In 1896, the Canadian Electric & Water Power Co. acquired it to provide power to the Town of Perth – one of the four mills on the Tay doing so, including the Ritchie, Adams and Haggart mills. The dam and mill were rebuilt at this time and operated as a hydro plant until 1922. In 1929, Anson Bowes rented the property and returned it to a grist mill, then purchased the property in 1939. A fire destroyed the mill in 1952, but it was restored and maintained as a family museum.
The heritage home on the north side of the is said to have been built by John Allan, who owned the mills between 1856 and 1867. The property is still owned by the Bowes family. Further details on the Mill and home may be seen on the Heritage Property page of this website as they are being recognised as Township Heritage Properties.
Photo Gallery: Bowes Mill will appear here on the public site.
Burgess Mill (a.k.a. Black Creek Mill)
This sawmill, off Black Lake, on Lot 11, Concession 4, North Burgess Ward, was probably the earliest mill built in Tay Valley Township, on property that had been surveyed, and owned, by Reuben Sherwood, as early as 1812. Sherwood was the official surveyor for a large part of the early Perth Military Settlement. Later mill owners included Samuel Chaffey (ca1852) and Daniel or Charles Jones. William Elliott owned it when it was destroyed by the 1870 'Great Fire'. Located at the mouth of Black Creek at Hogg Bay, the mill closed by 1871. The mill site is now part of, and protected by, Murphys Point Provincial Park.
Canadian Bark Works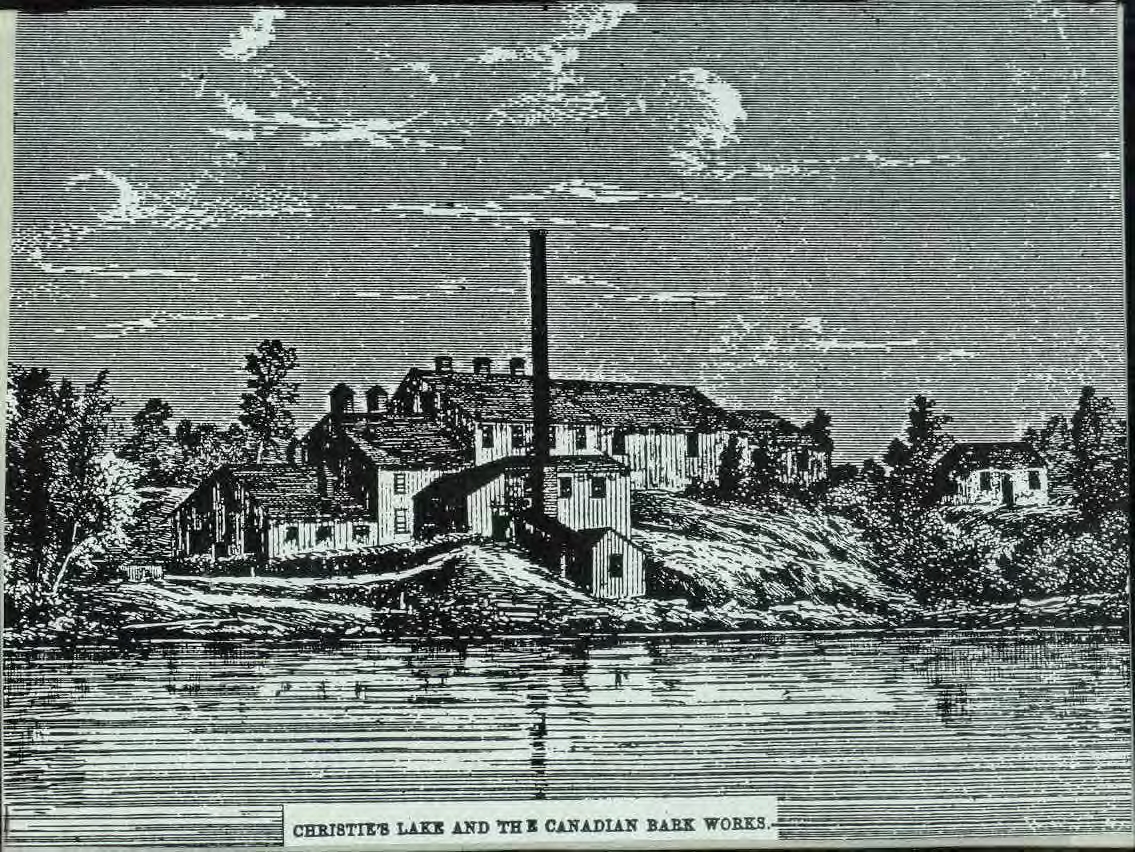 This factory was located on the north side
of Christie Lake, on Gravely Bay (Lot 2, Concession 3, Bathurst Ward) on property originally owned by Oliver Burns. It was built in 1868 by a group of local businessmen, led by chemist Thomas Aspden, and including William J. Morris, Alexander Morris, John Manion, John S. Hart, and a Boston company, Hood, Swift & Co. The factory extracted tannin from hemlock (and oak) bark, which was used
for tanning hides. The product was shipped abroad and, also, sold locally to the Templeton Tannery on Herriot Street in Perth. In 1871, when the plant was owned by a J. Cook, and The Cook Extract Co., it was destroyed by fire. The plant was rebuilt, but operations ceased in 1874, apparently due to reduced hemlock stocks.
(Including excerpts from Author John A. McKenty's book, "Arden Blackburn's Mail Route')
Deacon Mills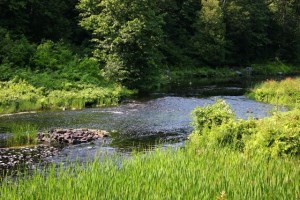 The Deacon Mills were located on the Tay River approximately 2½ kms. below the Thom/Korry mills and dam at Bolingbroke (Lot 10, Concession 3, South Sherbrooke Ward). The buildings are no longer there. Ephram Deacon, son of John Deacon, who arrived from Ireland in 1815, built the first sawmill. By 1882, his son, Richard Deacon, was operating two shingle mills and a sawmill there, with a capacity of 25,000 feet. The products were shipped by scow down the Tay River to Perth.
Dorans Rapids (Dorans Mills)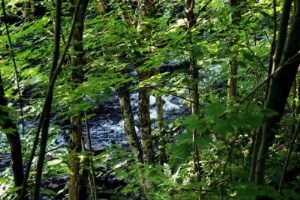 This site is located on the Fall River downstream from Maberly, off Dorans Road, on Lot 2, Concession 9, Bathurst Ward. Once a busy commercial hamlet of 40 or 50 people, with a sawmill, grist mill, hotel, blacksmith, general store and post office, the site is now deserted, with little sign of buildings or dam. The sawmill was perhaps built as early as 1834, by Alvah Adams, son of Joshua Adams, of Adamsville. Later, the Doran family added the grist mill and other enterprises. Subsequent owners or mill operators included Robert Sergeant and a 'Mr. Bishop' in 1890, but probably ceased operation soon after that.
Fallbrook Mills
The Fallbrook area, in Bathurst Ward, hosted a number of important mills, the first of which is said to have been a grist mill, built on Bolton (Boulton) Creek by the Boulton family in 1823/24 (Lot 21, Concession 11). Later a sawmill and shingle mill were added, by 1863, by Archibald Bain.
On the Fall River, in what would become Fallbrook Hamlet, William Lees built a sawmill, grist mill and woolen mill, by 1850 (on the NE half of Lot 21, Concession 10). Lees added a blacksmith in 1865, which was later owned by Walter Cameron, famous local blacksmith, carver and raconteur. Fallbrook also had a general store and cheese factory. The woolen mill ceased operation in 1902. Lees also owned a sawmill upstream at the exit from Bennett Lake, as well as one at Playfairville. He was the Member of Provincial Government for Lanark South from 1879 to 1890.
Other Fallbrook area mills included a carding mill north of the hamlet, and two sawmills on Bolton Creek, north-east of the hamlet.
Upstream from Fallbrook, on the SW half, Lot 20, Concession 10, on Anderson Sideroad, well-known orchardist, William Anderson operated a sawmill, later replaced following a fire, by a sawmill built by his grandson, James.
George Oliver's Grist Mill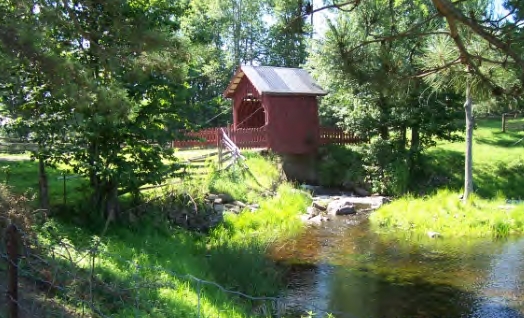 The Oliver mill was located on Grants Creek, off the Westport Road, several hundred metres downstream from the Allan's Mills (Lot 11, Concession 10, Burgess Ward). The mill was built by 1878, on the property of George Oliver. In 1889, it was operated by Robert Oliver, George's grandson. The mill building and foundation are gone, but the location of the dam and mill pond are intact..
J. & T. Scott Sawmill
The J & T Scott Sawmill was located on the Scott Snye, off the Upper Scotch Line, on Lot 17, Concession 10, in the Burgess Ward. The mill was built before 1863[i], by James Scott, and by 1880 it was operated by 'J&T Scott' (presumably, James and his son Thomas, born 1834). In 1890, the mill was owned by James Scott, and cutting pine, hemlock and hardwoods, with a '4m' capacity.
Korry (Corry/Currie) Mills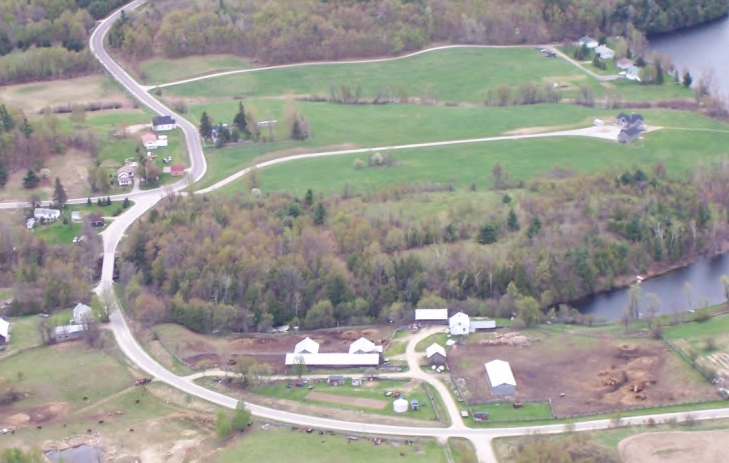 The Korry mills were located on the Tay River, above Bolingbroke (Lot 7, Concession 3, South Sherbrooke Ward)), approximately 200 metres below the present Parks Canada dam. Dr. Alexander Thom of Perth received this land as a Crown grant in 1821, and was the first to dam the Tay River here. He also built its first sawmill, and possibly a grist mill, and the site became known as "Thom's Rapids'. In 1848, soon after Thom's death, the land and mills were sold to John Korry, who apparently replaced the dam. He and his sons operated four mills there, on both sides of the river, including grist/flour, shingle and planning mills, as well as the sawmill, which was still standing in 1925. His business, which also included several logging camps, had a major economic impact on the area during the last half of the 19th Century.
In 1870, the Federal Government purchased the dam site, and raised the dam level creating a reservoir that, today, provides up to 50% of the reservoir capacity for the Rideau Canal system, delivered via the 'managed' Tay River to Lower Rideau Lake.
Maberly Mills
The early Hamlet of Maberly was the centre of one of Tay Valley Township's largest industrial complexes of mills, shops and stores, and it even had a connection to one of Canada's most famous singer/song writers, Leonard Cohen. Launched in the mid-1800s, the local industries at the hamlet's peak included two sawmills, a carding/wooled mill, shingle mill and a grist mill, as well as blacksmiths, carriage works, cooperage, coffin maker, shoe shops and general stores. The first mills were created by James Morrow, John Morrow, John McGregor, Francis Blair and James Ure, and owned later by Isaac Goldman, Isaac Korry and the Van Alstine family, most recently by Ken Van Alstine. The early shops were owned by such well-known local residents as the Perkins family, Robert McVeigh, George Buchanan, High McNicol.
Leonard Cohen's great grandparents, Lazarus and Fraidie Cohen, came to Maberly from northern Europe, and raised their family here in the late 1800s, which included the songwriter's future grandfather Lyon. They were an active part of the hamlet's local business sector before moving on to Montreal where they became an important part of that community and Canada.
McCabe Grist and Oat Mill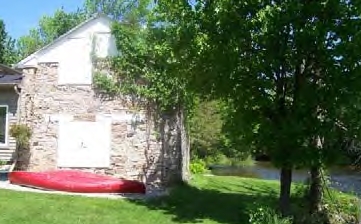 This mill is located on the Tay River, off Noonan Sideroad (Lot 13, Concession 1, Bathurst Ward), three hundred metres downstream from the Ritchie Sawmill site. It was probably built after 1840, by Michael McCabe Sr., and operated by him and his son, Michael Jr. It had several owners or part-owners over the years, including John Doran, John Mitchell, and Francis Hall. In the 1880s, John Laurie was running the grist mill and possibly a sawmill here. Presumably, the mill or mills ceased operation not long after that. The grist mill is now incorporated into the residence.
Mitchells Mill
This mill was built by John Mitchell in the early 1900s, on Bolton Creek, off Mitchells Sideroad, Lot 20, Concession 11, South Sherbrooke Ward. No building or foundation remain.
Playfairville Mills
The Playfairville mills were located on the Mississippi River, (Lot 22, Concession 12, Bathurst Ward), near the intersection of Fallbrook and McDonalds Corners Road. Named after the founder of its first mills in 1816/17, Col. Andrew W. Playfair, the hamlet and nearby area grew to be one of this township's largest early industrial complexes. At its peak, it included a grist mill, three sawmills, shingle mill, carding and fulling mills, as well as a hotel, church, store and blacksmith. In the area, there was also an iron ore mine. Andrew Playfair served as the Member of the Legislative Assembly, for South Lanark, for four years from 1858.
Ritchie Mill (a.k.a. Adams Sawmill)
The Ritchie Sawmill is located on the Tay River, at Noonan Sideroad (Lot 12 of Concession 1, Bathurst Ward). The mill, which is also known as "Adams Mill", was probably built by William Ritchie, ca 1840. It operated until about 1970. Over its 130 years, it was owned or operated by William's sister, Elizabeth, and her husband Nathan Judson, by his sons Robert and John Ritchie, by Perth Electric & Power Co., to produce electricity for Perth, by Carroll (Carl) Adams and, finally, Andrew Allan, as a sawmill.
This mill is being recognised by Tay Valley Township as a Heritage Property. Further detail will be posted on the "Heritage Property" page on this website.
Photo Gallery: Ritchie Mill will appear here on the public site.
Wilson Sawmill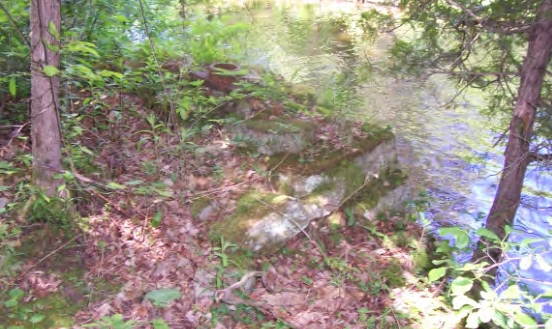 The Wilson Sawmill was located on the Tay River, approximately 400ms upstream from the Bowes Mill site (Lot 16, Concession 1, Bathurst Ward). Only part of the foundation remains. The mill was built before 1861, by Thomas Wilson, on the original property of G. Wilson. It presumably ceased operation in the late 1800s, when local timber had been largely cut.
Source: 'Mills of the Tay Watershed and Area of Eastern Ontario'
More Recent Mills in Tay Valley Township (not water-powered)
Ferrier Sawmill
This mill off Mackler Sideroad, in Burgess Ward, was owned by Ross Ferrier and son, James.
H&HD Card Mill
This mill was first located on the 8th Line in Bathurst Ward, then moved to Highway 7 near Wemyss (19896 Highway 7).
McVeigh Sawmill
This mill, located at 666 McVeigh Road, in Bathurst Ward, was founded by Lloyd McVeigh on his return from WWII, and now operated by his son, Bryan.
Taylor Mill
This mill, in Bathurst Ward, on Old Brooke Road, produced materials for the family's business, which erected many of the mid-1900s barns in the area. Launched by Herb Taylor sometime after 1918, it is said to have continued until the 1970s.