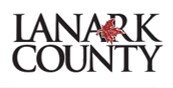 The Tay Havelock recreation trail between Armstrong Line and Fall River Road (12 km east of Sharbot Lake) will be closed starting November 29 to facilitate the rehabilitation of the bridge spanning the Fall River.

This project is jointly funded by the County of Lanark and the Ontario Federation of Snowmobile Clubs (OFSC). DW Building Restoration Services was awarded the project at a cost of $240,000 and is scheduled to complete the work by the end of December.

"We are grateful to our partner, OFSC, for their ongoing support of recreation in Lanark County," said CAO Kurt Greaves. "We are very fortunate to have these partnerships in place that help us to sustain trail systems throughout Lanark County."

Detour via Armstrong and Fall River Road will be in place.
For more information, contact: Sean Derouin
Public Works Manager Lanark County
1-888-9-LANARK, ext. 3194